The Cinder Path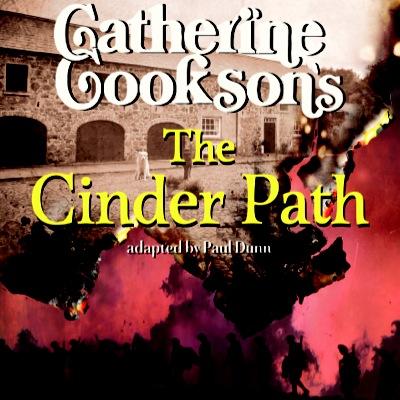 South Shields.
9 September 2015

The Cinder Path is based on the book of the same title by author Catherine Cookson, ( You may have heard of her ?) adapted by Paul Dunn who also stars. (various roles)

Set in the North East of England for a lot of the play but wartime France gets a showing too.
The play is based round the Macfell farm, Charlie Macfell a young bright talented Soldier is at the family farm while off school.
He is good friends with all the farm hands including Ginger Slater, played brilliantly by James Hedley (Byker Grove, Geordie The Musical).
Not only is Mr Macfell a harsh and brutal father but also a slavedriver when it comes to his farm and the workings of it. When Ginger slacks off, Mr Macfell makes an example not only to the worker, but to Charlie too….
Leaving the pair of friends unsworn enemies.

Charlie's father dies in what I have to say was masterfully created scene with great effects with lighting and props which you have to give credit to Gareth Hunter, Christina Berriman Dawson and especially James Henshaw the lighting designer.

This leads to Charlie taking over the farm but Ginger sees what happens to Mr Macfell and tries to blackmail Charlie, which doesn't go down too well.
Ginger is banished from the farm.
Charlie is nearly 18 by now and has caught the attention of the chapman sisters -Victoria the oldest, who can only be described as the villages whore and Nellie the younger sister (who Charlie has a slight crush on).
After much persuading between the families (adjoining farms..money money money!!] Charlie proposes to Victoria.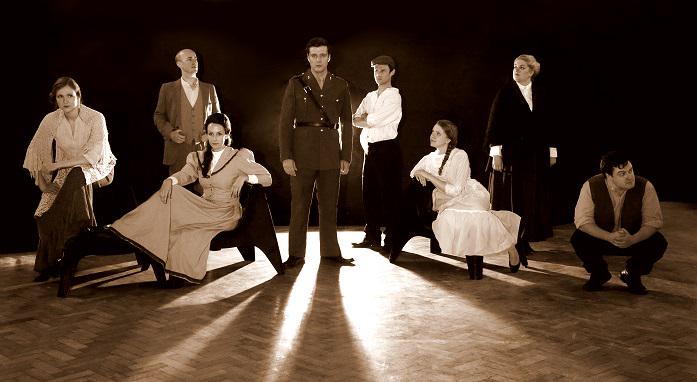 Two years after things are changing, War is upon us and men are being called up. Charlie is one of them…his new Commanding Officer is non other than Ginger Slater.
CO Slater is out for blood.
On 48 hours leave Charlie finds his wife in bed with the platoon commander who gives him a bump up in rank to keep silent about the affair.

Before we head off to war Charlie realises something major after Nellie tries to kill herself, he loves Nellie and vows to marry her after the war.
Then it's off to war we go ! Captain Charlie Macfell is in charge of his men which includes a certain Sergeant Ginger Slater. Both men argue, with Ginger bad mouthing Charlie. We see them almost comes to blows when a bomb blast kills Ginger.

While in the South of England, his sister Bettie (played by Rosie Fox who also plays Victoria) comes to see Charlie and gets him to sign a form for more monetary control over the farm.

As a result of the bomb blast he ends up in a hospital in the North with some very comical nurses played by Anna Nicholson and Georgia Nicholson (both of them play other roles as well), he gets a visit from Nellie who is desperate to tell Charlie something, but she backs out at the last minute.

Charlie also visits a farm hand (played by Steven Stobbs) who came a bit worse off than him thanks to the war, who tells him the bad news, that his sister has sold the farm (He signed it over) and he has nothing.

Nellie goes to the farm and sees Charlie, she promises to stand by her man to help them start a life together and they share one final passionate kiss!

Jamie Brown and Sarah Boulter who played Charlie and Nellie have to get special praise as I felt the way they portrayed their characters had me gripped and after seeing Sarah in 'Waiting for Gateaux' it was good seeing her portray another character.

Jamie did extremely well, he brought the story to life and kept my attention to the storyline throughout.

This production is well worth the money and is one that will be enjoyed by all ages young and old (trust me I was there with an "Old Man") and I would definitely recommend this show to you!

On till Saturday 12th of September 7.30pm

Reuben Hiles